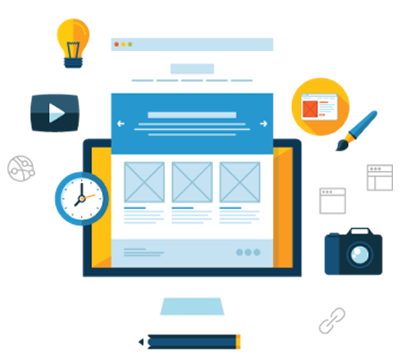 Whoever
said looks don't matter didn't know the web.
If you don't look the part you can't play the part. We'll insure you look as amazing as your products and services.
Remember that old adage that looks don't matter?
Well on the web, they do. The world moves fast and the web even faster. Its very easy to get caught up in actually running your business or just with life in general and before you know it, your website is out of date which can be quite overwhelming. Styles and technologies are constantly changing and improving. With a simple make over from time to time you can easily stay ahead of the curve.
We consider the Make Over small to medium size websites that are already existing sites that have established content and imagery that just need a new look or some organizational updates. Most commonly this is someone moving from an older HTML site into a CMS such as Joomla or WordPress or sites that are in older versions of a CMS that need to get current or just need a theme change.
So why do you need a MakeOver?
If your site is more than a year or so old:
Web Standards have changed and you could look dated

SEO rules have changed and you're not being found properly

Your site isn't reflecting the evolution of your business

Your site is more than likely not correctly responsive to mobile devices
You want to change into or out of a CMS

Your original design doesn't reflect your business accurately

You're not getting conversions or traffic
Basic Makeovers Start at

$399.00
Every project is different and we

strongly recommend

you
to contact us so we can talk about your project personally and in detail.
Don't think you need a full Makeover?
Sometimes simple changes can make all the difference. Maybe you just need an error or bug fixed.
Jump to Webmaster OnDemand